Christoph Stiefel: Press voices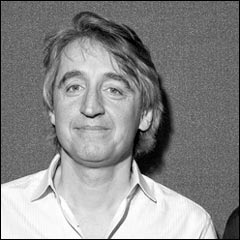 Christoph Stiefel
>>> Press photos
---
ABC Jazz: 'Big Ship', Christoph Stiefel
A recent release from Swiss pianist and composer Christoph Stiefel and his 'Inner Language Trio'.
Out of the 15 albums Christoph Stiefel has recorded over the past 25 years, seven of them have been trio albums. "Big Ship" is his latest trio project, and this time, he brings along with him young Swiss upstarts Arne Huber on bass and Kevin Chesham on drums.
The trio set about exploring the 'Isorhythmic' technique, which is a compositional style that Stiefel has been exploring for a number of years. The concept was derrived from 13th and 14th Century early music, and, whilst being a technique also employed by 20th century classical composers, Stiefel is one of a few who have approached it with a jazz mindset, thus "Big Ship" makes for rather intersting listening. Interplay is key for this ensemble, and the trio set about building on Stiefel's left hand riffs, alongside Huber's grounding bass notes.
---
all.about.jazz: BRUCE LINDSAY Nov. 20, 2012
Isorhythms and Circus Clowns
It's the end of a lengthy but enjoyable telephone interview with Christoph Stiefel and things are drawing to a close. Then the pianist asks if he can add one more comment:
"This is my year. This is a really happening year for me: it's incredible. I've developed my style solo and with my Inner Language Trio for eight, maybe 10 years. I've always had plans to incorporate my ideas into other projects: with a dancer, a bigger band and a singer. All of these ideas came through this year. I dueted with singer Lisette Spinnler [Bima Sakti (Traumton Indigo, 2012)], developed a new project with Japanese dancer Hideto Heshiki called Tale Of A Honeybee, which came out so well. And the Isorhythms Orchestra is taking shape. So this year is really happening."
The Inner Language Trio has also released an album in 2012: Live! (Basho Records) is one of the year's most exciting releases, full of energy and imagination. It's great to hear a musician as talented as Stiefel speaking so enthusiastically about the fruition of his ideas, dreams and projects.
It's especially pleasing because Stiefel, now 51 years old, has been a composer and musician for some time: this is no over-optimistic new graduate speaking. His early career was spent in a variety of bands, including that of harpist Andreas Vollenweider, with whom he recorded six albums during the '80s. His total discography runs to over 50 albums, including solo projects and recordings as a bandleader.
Bands such as the Christoph Stiefel Trio, the Christoph Stiefel Quartet and the Inner Language Trio have included such musical luminaries as bassist Michel Benita, saxophonist Charlie Mariano and drummer Peter Erskine. It's an impressive musical résumé, yet he's still experimenting, still exploring new ground.
Born and educated in Switzerland, where he still lives, Stiefel has spent most of his career working in Europe, especially Germany, Holland and his Swiss homeland. Thanks to a serendipitous meeting with a British record label executive that looks set to change as Stiefel now has the support to enable him to expand his reach to the UK and, in 2013, to North America.
Isorhythms
The name of Stiefel's latest ensemble, the Isorhythms Orchestra, gives an indication of something that has held his interest for the last few years-the concept of isorhythms, a musical technique that dates back to the 13th century.
There are plenty of definitions of this concept around, but Stiefel's happy to explain his own personal take on it.
"It's always difficult, without sounding too complicated, but there are two basic ideas: first, the rhythmic sequence, second, the melodic content. In isorhythms the melodic content doesn't have to follow the rhythmic sequence. So, for example, a rhythmic sequence may be a pattern of five and the melodic sequence could be six or seven. So the two overlap. The simplest example for me is when you have a rhythmic sequence of quarter notes-one, two, three, four-and the melodic part that is one, two, three: then everybody hears a waltz. The melody gives the illusion of a waltz, so that's what everyone hears.
"I can manipulate what the listener hears. If I start with the illusion that's what everyone hears, then if the drums play the rhythm pattern the audience thinks 'Wow, what's that?' If I start the other way round, with the underlying rhythm, then it's a different effect. I don't really know how much my approach fits the classical isorhythmic technique. I was studying the history of music a few years ago and the tutor discussed isorhythms. I had already composed a piece which seemed to use the technique so I played it for the tutor and he said 'Yes, that's isorhythms.'"
So the isorhythmic approach emerged in Stiefel's music without him being aware of the concept.
"That's right. I just had the idea. That tune became the title track of the first album by the Christoph Stiefel Trio, Sweet Paradox (Jazzline Records, 1997)."
Although he found isorhythms almost by accident, the approach is not one that lends itself to easy assimilation by musicians. Stiefel can't simply turn up for a gig and join a local set of backing musicians.
"No, it would be impossible. The difficult thing is to hear, play and think in these two realities. The listener can switch between the two but as a player you have to feel and play both at the same time. If you find the most talented and experienced players, like Peter Erskine, give them time to look at the tunes then it would be fine-I hope. But it's trickier than you might think."
It's a style that requires a real understanding between musicians.
"Yes. Then you start to feel free with it. If someone doesn't feel that freedom, then it sounds like he's really concentrating. When he's confident, free, then the feeling is 'wow!' That's my goal."
---
Jazzwise Magazine (UK): **** The trio infuses the set with an infectious, often funky adrenalinerush of momentum...Just as contemporyry piano trio fatigue seemed to be setting in, Stiefel comes along to raise the bar again.
The Guardian (UK): **** Rhythmic Revolutionary - Christoph Stiefel is a rhythmically adventurous performer fascinated by the interplay of grooves. Slow episodes have a gentleness that reveal Stiefel's nuanced touch is equal to his up-tempo fluency.
The Jazz Man (UK): A very impressive album overall and one that deserves to raise Stiefel's profile in the UK. "Live!" is eminently accessible and full of striking melodies and strong rhythmic ideas.
The Jazz Breakfast(UK): The band can be lyrical and rhapsodic as evidenced by Waltz For Nina, although at other times - the first four minutes of Olympus Mons, for example - it can sound like three men trying to exhaust each other in a physical work-out. Overall, this is a very strong performance with all the right highs and lows, surges and retreats, in the sequence of pieces.
www.allaboutjazz.com(USA): The new Cd of the Inner Language Trio (Basho Records) is one of the year's most exciting releases, full of energy and imagination...
04/01/2014 Stephen Graham, Marlbank ****
'The most startling European jazz trio I've come across since first hearing Tingvall trio it's a delicious album of Stiefel's own compositions, wrought with their own wistful energy and imaginative bittersweet resolutions. The narrative arc the trio so instinctively assembles spins out, even in 'First Blossom' the briefest of the compositions, and draws you in like a moth to the flame as the ship sails blithely on.'
01/03/2014 Selwyn Harris, Jazzwise ****
'Stiefel is quietly putting down his own stamp on contemporary piano trio jazz.
01/04/2014 Ian Mann, Jazzman ****
Much of the trio's music has the kind of urgency that typifies the music of such groups as E.S.T. , The Bad Plus and the Neil Cowley Trio... "Big Ship" feels like a considerable improvement on "Live!", good as the previous recording was. Stiefel's abilities have never been in doubt but in Huber, and particularly Chesham, he appears to have found the perfect partners.
06/03/2014 Bruce Lindsay, All About Jazz
Out on the oceans, a big ship can seem ungainly and slow to respond. No such problem for this Big Ship. Throughout the 11 tunes the Inner Language Trio demonstrates a masterly command of rhythm and dynamics-shifting direction and pace with the agility of a speedboat one moment, then gliding sedately with the grace of an ocean liner the next.'
27/02/2014 Euan Dixon, Jazz Views
'In his second album for Basho Records Swiss pianist and composer Christoph Stiefel revisits the isorhythmic compositional techniques that featured so powerfully in his first album `Live!` but applies them rather more judiciously in a way that allows his music space to breathe.'
15/02/2014 Adrian Pallant, AP Album Reviews
'Stiefel's compositional and pianistic range is impressive - often full-on-energetic and infectiously rhythmic; at other times, finding delicately reflective backwaters. And in bassist Arne Huber and drummer Kevin Chesham, he has discovered two empathetic musicians who bring their own particular expertise, sophistication and spark to these eleven originals.'