Christoph Stiefel
"Highly independent chamber music, which turns out to be great art," "... belongs to the most exciting jazz piano has to offer at the time," "grandiose - world-class audio experience!" ... These and similar phrases circulate the music press at the moment, when Christoph Stiefel and his Inner Language Trio are reviewed.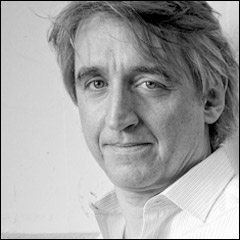 Christoph Stiefel
>>> Press photos
---
Christoph Stiefel Inner Language Trio
Christoph Stiefel - piano, composition
Arne Huber - bass
Kevin Chesham - drums
---
Many years Christoph Stiefel has been dealing intensively with displacement and superposition of rhythmic patterns, inspired by a compositional technique from the Middle Ages, Isorhythms, which he manifested in his own trio since 1990. In the new line up he is supported by two equally talented musicians of a younger generation: Arne Huber on bass and Kevin Chesham on drums.
The Inner Language Trio moves between precision and unleash in a modern jazz piano trio sound that produces irresistible rhythmic energy. A music unfolds, that is both complex and simple, intellectually and emotionally, abstract and sensual.
Christoph Stiefel's Inner Language Trio is supported by Pro Helvetia and was booked in the last two years for concerts at international jzzfestivals like: Cullyjazz, ELBJAZZ Festival, Palatia Jazz Festival, London Jazz Festival, Jazztage Hamm, Jazzfestival Freiberg and others.