Klaro! - Karolina Strassmayer & Drori Mondlak
KLARO! verbindet die Lyrik der europäischen Klassik und Folklore mit der rhythmischen Kraft des amerikanischen Jazz und der harmonischen Raffinesse der zeitgenössischen Musik. Der musikalische Bogen spannt sich von kraftvoll, spritzigen Grooves zu poetischen Balladen und explosivem Swing.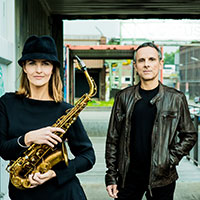 Klaro!
>>> Pressefotos
---
Die amerikanische Jazzpresse hat Karolina Strassmayer zu den "Top Five Altsaxophonisten" (Downbeat Magazine) gekürt und nennt sie "one of the most interesting alto saxophonists" (Jazz Perspectives). Die neuesten Rezensionen aus der europäischen Presse bezeichnen Karolina als "eine ungemein gewandte Melodikerin, die sensiblen wie zupackenden Spielwitz versprühte und mit ihrem formidablen US Quartett in einem inspirierten Konzert begeisterte." (Otmar Klammer).
Nach langjähriger Tätigkeit in der New Yorker Jazzszene mit Musikern wie Chico Hamilton, dem Duke Ellington Orchestra und Don Friedman trat Karolina der mit zahlreichen Grammys ausgezeichneten WDR Big Band Köln bei. Es folgten Auftritte mit Jazzgrößen wie Joe Lovano, Joe Zawinul, Maceo Parker, Maria Schneider, Patti Austin, Take 6 , McCoy Tyner.
Gemeinsam mit dem phänomenalen New Yorker Schlagzeuger Drori Mondlak präsentiert Karolina ihr Quartett KLARO! In über 20 Jahren in New York hat Drori mit Ausnahmekünstlern wie Frank Foster, Joe Williams, Lee Konitz und Don Friedman gespielt. "Mondlak exhibits an eloquent speech-like personality, much remindful of the deeply melodic orientations of drummers Shelly Manne, Joe Morello or Max Roach" (Jazz Perspectives). Egal in welchem Genre sich die Musiker von KLARO! bewegen, ihre Musik ist stets voller Passion, Neugier und Lebenslust.
Die Band trat bereits auf zahlreichen international renommierten Bühnen auf, u. a. im Kennedy Center of the Performing Arts in Washington, in New York im Jazz@Lincoln Center, Dizzy's Club Coca-Cola und Birdland, beim Salzburger Jazzherbst, Jazzfest Vienna, Grazer Jazzsommer, Düsseldorf Jazzrally, Bingen swingt, Hildener Jazztage, WDR Jazznight, Europhonics Festival Domicil Dortmund, Jazzforum Arts NYC, Outreach Festival Tirol, Enschede Jazzfestival, Jazz Arts West Palm Beach, BurgJazz, Blues 'n Jazz Rallye Luxemburg, Jazz Maastricht, Jazzclub Unterfahrt Munich, Jazzland Vienna, Graz Meeting, The Jazz Cruise, Jazz an der Ruhr, Rheine Jazzfestival, Schelde Jazz, Jazztime at Amphion Festival und Saarbrücker Jazzfestival.