Klaro! - Biographies
KLARO! verbindet die Lyrik der europäischen Klassik und Folklore mit der rhythmischen Kraft des amerikanischen Jazz und der harmonischen Raffinesse der zeitgenössischen Musik.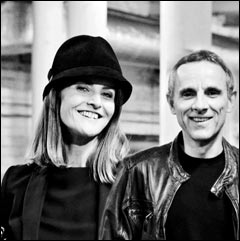 K. Strassmayer & D. Mondlak
---
Karolina Strassmayer

(alto saxophonist, composer)
Being the first female member of the Grammy Award-winning WDR Big Band Cologne, voted among the Top Five alto saxophonists by the readers of Downbeat Magazine several years in a row, called "one of the most interesting alto saxophonists of her generation" (Doug Ramsey).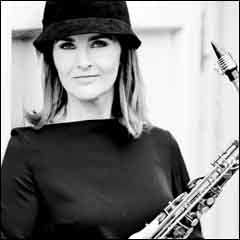 Karolina Strassmayer
"A player with great emotional depth" (Washington Post), and "exuberant and gritty…instantly engaging" (JAZZIZ), are only a few of alto saxophonist Karolina Strassmayer's accolades.
Her artistic journey has led Karolina from her native Austria to the jazz clubs and concert halls of New York City, around the world several times, and back again to the European stages and recording studios where she now performs.
While living in New York she performed with artists such as Chico Hamilton, the Diva Jazz Orchestra, Five Play, the Duke Ellington Orchestra; she played on five Grammynominated recordings, and was a featured soloist with the New York Pops Orchestra at Carnegie Hall.
With the WDR Big Band, she has performed with McCoy Tyner, Joe Zawinul, Joe Lovano, Lee Konitz, Maria Schneider, Take 6, Mike Abene, Dick Oatts, James Moody, Maceo Parker, Chris Potter, Randy Brecker, Vince Mendoza, and many other jazz greats.
Of Mystery and Beauty (2016) is her most recent recording with co-leader Drori Mondlak. In their seventh recording together their vision has crystallized into an original and deeply personal sound.
"Beauty means different things to different people. But there is a universal truth about it, regardless of taste and aesthetic; beauty has the power to move the heart. I feel that it is my responsibility as an artist to search for those little melodic twists and harmonic turns that make my heart leap—in the hopes that they will touch the heart on another. Turning those tiny tugs and hunches into songs is a deeply satisfying work and witnessing them being brought to life by such splendid musicians as Drori, John, and Rainer was simply a blast," says Strassmayer.
---
Drori Mondlak

(drums)
Drori Mondlak is one of the outstanding jazz drummers and bandleaders on today's international jazz scene. His touch, subtlety, and interactive approach to the music have brought him critical acclaim and performing opportunities with many creative musicians in diverse musical situations.
Drori Mondlak
Together with alto saxophonist Karolina Strassmayer he co-leads the critically acclaimed quartet Karolina Strassmayer & Drori Mondlak - KLARO!.
In his eclectic work in New York City for over twenty years Drori has played with jazz luminaries such as Frank Foster, Joe Williams, Don Friedman, Chris Potter, Lew Tabackin, Ernestine Anderson, Cary DeNigris, Vic Juris, Steve LaSpina, Lynn Seaton, Bill Charlap, Warren Vache, Bucky Pizzarelli, John Hicks, Danny Mixon and many more.
In Europe he has performed and recorded with artists such as Lee Konitz, Barbara Dennerlein, Sonny Fortune, David Friedman, Lynne Ariale, Stefan Bauer, Chico Freeman,Tony Lakatos, Kalman Olah, Ferdinand Povel, Pablo Held, Michael Heupel, Thomas Rückert, Paul Heller, Scott Fields, Nicolas Simion and many more.
Mondlak's most recent recordings with KLARO! are Of Mystery And Beauty (2016), Small Moments (2013), and Joining Forces (2011). He has also released two recordings as a leader, Point In Time and Wake-Up Call.
"Much remindful of the deeply melodic orientations of drummers Shelly Manne, Joe Morello or Max Roach, Mondlak is natural and imaginative in his high regard and ability to represent melodic lines and contours, and illuminates this flow freely."
Dr. Herb Wong – Jazz Perspectives
"Mondlak is a deeply melodic drummer, but with deceptive power and finesse of someone like Joe Morello."
Phil Hood, DRUM!
"The precision, speed and reserved strength of Mondlak's drumming are reminiscent of Joe Morello in his early years with Dave Brubeck."
Doug Ramsey – Rifftides, Arts Journal
www.drummerworld.com/drummers/Drori_Mondlak.php
---
Stefan Bauer — vibraphone
Bauer is internationally regarded as a dynamic and flexible improvisor who moves within a wide spectrum between mainstream and avantgarde. Bauer's encounters with musicians everywhere remain a source of great inspiration. Over a period of more than three decades Bauer had opportunities to play and record with and learn from many musicians in Europe, Africa, India and in North-America. His credentials as a composer include more than a 100 pieces, seven CDs as a leader as well as music for a TV show in Germany. In 1990 he received a jazz-compositions prize from Monaco, the cultural award of the city of Dortmund, Germany, and was nominated for a JUNO Award. A project with the WDR Big Band gave the initial impetus for KLARO's! collaboration that developed into a close musical friendship. During a successful engagement at Jazz@Lincoln Center the group's chemistry flourished.
Thomas Stabenow - bass
The renowned bassist Thomas Stabenow is a veteran of the German jazz scene and has performed with international jazz greats such as Johnny Griffin, Charlie Rouse, Lee Konitz, Mel Lewis, Kenny Wheeler, Billy Cobham, Cedar Walton and Stan Getz. His beautiful sound and lyricism makes him the perfect partner for KLARO!
John Ginsburg - bass
The American bassist and bandleader Josh Ginsburg has worked with Kurt Rosenwinkel, Greg Osby, Mulgrew Miller and many others. His current CD was voted "Album of the Year" by New York City Jazz Record and his playing has been described by the jazz press as "vigorously fresh" and "a rock of counterpoint, Funk and swing. "
Rainer Böhm – Piano
Rainer Böhm was nominated for the Echo Jazz Prize in 2015 for Instrumentalist of the Year. From 2007 to 2009, he completed a master's degree at Queens College in New York City. He has performed and recorded with saxophonist Lutz Häfner and bassist Dieter Ilg. He has also appeared with Johannes Enders, Rolf Kühn, Albert Mangelsdorff and Randy Brecker. Böhm's inspired playing and lyricism are a great addition to KLARO! and can be heard on the new CD Of Mystery And Beauty.
David Friedman – Vibraphon
David Friedman is one of the most influential vibraphonists, composers and jazz educators in the world. He has performed with Leonard Bernstein, Bobby McFerrin, Wayne Shorter, Joe Henderson, Horace Silver and Ron Carter. He was recently awarded the lifetime achievement award by the Percussive Arts Society. Friedman is a masterful vibraphonist and a musician with heart and soul.